The Aaleemee Society was founded in June 2000, with the blessing of late Hazrath Mowlanah Shah Ahmad Noorani Siddiqui (RA) , by a committee of seven members determined to give a chance to the poor to earn a decent living.

Through our facilitation activities, many are now self-employed and are having a minimum daily revenue to meet the basic needs of their respective families.

Our actions have been successful, thanks to our partners in the private sector who have generously supported us.


Honorary Chairman
Hajee Bhai Issack Joonas
Industrialist
Afzal Delbar
Managing Director

Chairman
Saheed Thupsee
Technical Officer SMEDA
Diploma in entrepreneurship Development Policy Hyderabad ,India

Vice Chairman
Nazim Jookoo
Manager FCCA, BBA. (Hons)

Secretary
Hassam Thupsee
Planter

Assistant Secretary
Aslam Junggee
Traffic Warden (NTA)


Treasurer
Iqbal Thupsee
Marketing Manager

Assistant Treasurer
Mahmood Taleb Proprietor

PRO
Navind Gunnoo
Director (SME'S)

Auditor
Mrs Naseem Dulloo
Government Audit Bureau
FCCA

Project Coordinator
Ms Shaneeza Thupsee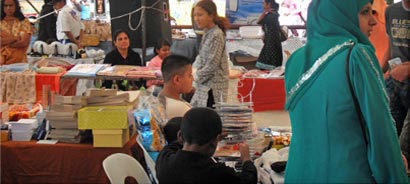 Shaneeza Thupsee
Farida Dilmahomed
Sheila Figaro
Lucienne calou
Eshana Goolamhossen
Naseem Futloo


THE AALEEMEE SOCIETY
Loreto Convent Street,
Curepipe Road
Tel: 7623008
Email: aaleemee@yahoo.com

Accreditation
CSR
N/1371


Sir Abdool Rajack Mohamed Centre
Royal Road
Phoenix

Tel/ Fax : (230) 6864514


Mauritius Council of Social Services ( MACOSS) Municipality of Curepipe
National Empowerment Foundation

Accredidated to Corporate Social Responsibility CSR No 1371
Registry of Associations NO 7774

Salohin Y'arivo Association
Antannarive, Madagascar